Knight
From Taern wiki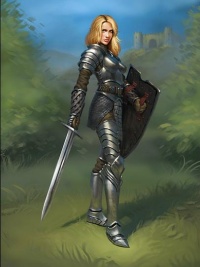 Brave warriors, instilling justice with fire and sword. Smart, valiant and heroic. Guided by honor and always following the code, Knights struggle to restore their motherland to glory. Natural born commanders, always leading, supporting and protecting their fellow Taernians. The Pride of Taern!
- powerful blows - damage resistant
- no special ranged attacks The most important parameters are Strength and Dexterity.
Skills
Quick Sash


The basis of the knight's work. The blow which is practiced at every court in Taern. Precise and immediate attack with a weapon, which completely surprises the opponent. Stronger and more precise than the basic weapon blow.
Properties
Avaible at 2nd level
Physical attack
DMG: 0.7 * Strenght + 0.3 * Dexterity + Weapon
Requirements: Weapon equipped
| | | | |
| --- | --- | --- | --- |
| Skill level | Damage | Chance to Hit | Stamina |
| I | 110% | 120% | 12 |
| II | 120% | 125% | 14 |
| III | 130% | 130% | 16 |
| IV | 140% | 135% | 18 |
| V | 150% | 140% | 19 |
| VI | 160% | 145% | 21 |
| VII | 170% | 155% | 23 |
Aimed Hit


Many years of training martial arts and taking care of physical condition have lead to negligence of the Knights' knowledge (but not their spiritual side), which made them more prone to many spells. The Aimed Hit, aimed at the mages, magicians and archers is a technique which is supposed to reverse this tendency. Properly conducted it stupefies the victim and diminishes the effectiveness of its ranged attacks and spells. Additional skill with the Mighty Blow.
Properties
Avaible at 5th level
Physical attack
DMG: 0.7 * Strenght + 0.3 * Dexterity + Weapon
Requirements: Weapon equipped
| | | | | | |
| --- | --- | --- | --- | --- | --- |
| Skill level | Damage | Chance to Hit | Stamina | Opponent's Mental and Ranged Chance to Hit | Duration |
| I | 80% | 100% | 20 | -25% | 3 |
| II | 85% | 103% | 23 | -28% | 3 |
| III | 90% | 107% | 26 | -31% | 4 |
| IV | 95% | 110% | 29 | -34% | 4 |
| V | 100% | 112% | 32 | -37% | 5 |
| VI | 110% | 115% | 35 | -41% | 5 |
| VII | 120% | 118% | 38 | -45% | 5 |
Shield Block


The shield is not a fence behind which you can hide. One must know how to use a shield. That's why one needs the skill of Shield Block. Thanks to the murderous training the Knight knows how to set the shield in such a way that even a simultaneous attack of several opponents would cause minimal damage to him.
Properties
Avaible at 8th level
Buff
Requirements: Shield equipped
Lowers chance to hit by 22%. When knight use shield block he has lower chance to hit.
Subsequent blocks reduce block efficiency by 3% in PvE and 10% in PvP.
Protection also affects blocking. If block and protection are active at the same time, block will be weaker by another 3% / 10%
| | | | | |
| --- | --- | --- | --- | --- |
| Skill level | Number of blocks | Efficiency of blocks | Stamina | Difficulty |
| I | 2 | 45% | 20 | 90 |
| II | 3 | 50% | 23 | 85 |
| III | 3 | 55% | 26 | 80 |
| IV | 4 | 60% | 29 | 75 |
| V | 4 | 65% | 32 | 70 |
| VI | 5 | 70% | 35 | 65 |
| VII | 5 | 75% | 38 | 60 |
Trance


Many years of training didn't only concern the improvement of his physical conditions nor fighting abilities. The knighthood is also a state of mind. Obligatory meditations and mystic practices enabled the members of the knighthood entering into a Trance. Supernatural concentration and unbelievable focus allow the knight to fully control his movements making his blows more precise and the wounds inflicted to it's enemies deeper.
Properties
Avaible at 12th level
Buff
| | | | | | |
| --- | --- | --- | --- | --- | --- |
| Skill level | Physical Damage | Physical Chance to Hit | Duration | Mana | Difficulty |
| I | +15% | +20% | 3 | 20 | 85 |
| II | +16% | +23% | 3 | 23 | 80 |
| III | +17% | +26% | 4 | 26 | 75 |
| IV | +18% | +29% | 4 | 29 | 70 |
| V | +19% | +32% | 5 | 32 | 65 |
| VI | +20% | +35% | 5 | 35 | 60 |
| VII | +22% | +38% | 5 | 38 | 55 |
Protection


The Knight is most importantly the guide and protector. The ethos that defines this social class makes him leave everything and help a companion in need. The skill of protection guarantees that a person protected by him won't receive any injuries from Melee nor Ranged fight, and all injuries will be taken by the Knight.
Properties
Avaible at 15th level
Buff
| | | | |
| --- | --- | --- | --- |
| Skill level | Chance to protect | Stamina | Difficulty |
| I | 70% | 40 | 85 |
| II | 74% | 46 | 80 |
| III | 78% | 52 | 75 |
| IV | 82% | 58 | 70 |
| V | 86% | 64 | 65 |
| VI | 90% | 70 | 60 |
| VII | 95% | 76 | 55 |
Mighty Blow


Even such a composed and concentrated Taernian as the Knight sometimes has a fit of fury. Sometimes while suppressing evil and injustice he gets out of proportion and vents to hit as strong as only possible. That's why he hasthe Mighty Blow for. This attack, consuming a terrible amount of energy, gives a massive amount of injuries and decimates the opponents. Additionally previously stunned opponents receive more injuries.
Properties
Avaible at 18th level
Physical attack
DMG: 0.7 * Strenght + 0.3 * Dexterity + Weapon
Requirements: Weapon equipped
| | | | |
| --- | --- | --- | --- |
| Skill level | Damage | Chance to Hit | Stamina |
| I | 160% | 100% | 20 |
| II | 175% | 103% | 23 |
| III | 190% | 107% | 26 |
| IV | 205% | 110% | 29 |
| V | 220% | 112% | 32 |
| VI | 235% | 114% | 35 |
| VII | 255% | 117% | 38 |
Purity Aura


The Knight is a just and good man, fighting with meanness and wickedness. A sign of this is his ability of raising an aura which gives him spiritual resistance for spells as well as diminishes his susceptibility for the opponents' spells. This aura can serve both the Knight and a person chosen by him.
Properties
Avaible at 22nd level
Buff
| | | | | | |
| --- | --- | --- | --- | --- | --- |
| Skill level | Mental resistance | Mental damage resistance | Duration | Mana | Difficulty |
| I | +23% | +15% | 3 | 30 | 85 |
| II | +27% | +18% | 3 | 35 | 80 |
| III | +30% | +21% | 4 | 39 | 75 |
| IV | +34% | +24% | 4 | 44 | 70 |
| V | +37% | +27% | 5 | 48 | 65 |
| VI | +40% | +30% | 5 | 53 | 60 |
| VII | +45% | +34% | 5 | 57 | 55 |
Sacrifice


Generosity and the crave to do good is the priority of the Knight, that's why in the moment of threat he cast a positive spell on himself, which lowers his defense, but increases his spells in turn. By exposing himself and receiving greater damage he decimates his opponents protecting the beliefs he's ready to give his life for.
Properties
Avaible at 26th level
Buff
| | | | | | |
| --- | --- | --- | --- | --- | --- |
| Skill level | Physical Damage | Physical Defence | Duration | Mana | Difficulty |
| I | +30% | -15% | 5 | 30 | 90 |
| II | +32% | -16% | 5 | 35 | 85 |
| III | +34% | -17% | 6 | 39 | 18 |
| IV | +36% | -18% | 6 | 44 | 75 |
| V | +38% | -19% | 7 | 48 | 70 |
| VI | +40% | -20% | 7 | 52 | 65 |
| VII | +43% | -20% | 7 | 57 | 60 |
Power of Unity


The Knight, using his natural leader abilities and charisma, gathers the whole group around himself. Thanks to passionate speeches and cries on the battlefield he makes the people fighting on his side feel united, which in turn increases their will to fight and their strength. Characters under the influence of the Power of Unity inflict higher damage and hit with bigger precision.
Properties
Avaible at 30th level
Group Buff
| | | | | | | |
| --- | --- | --- | --- | --- | --- | --- |
| Skill level | Damage | Chance to Hit | Duration | Stamina | Mana | Difficulty |
| I | +15% | +15% | 3 | 15 | 40 | 85 |
| II | +17% | +17% | 3 | 18 | 46 | 80 |
| III | +19% | +19% | 3 | 20 | 52 | 75 |
| IV | +21% | +21% | 4 | 22 | 58 | 70 |
| V | +23% | +23% | 5 | 24 | 64 | 65 |
| VI | +25% | +25% | 5 | 27 | 70 | 60 |
| VII | +29% | +28% | 5 | 28 | 76 | 55 |